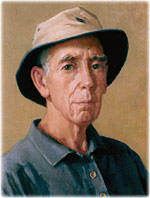 Fine Art by New Zealand artist, Peter Brown.
Peter was an artist who painted in the traditional manner. By virtue of his outstanding ability in drawing and perception of form, he captured the essential character of his subjects. Be it landscapes, flowers, still life or portraits the result is fine art of the highest quality.
Peter's paintings can be found in collections around the world.
Visit the Fine Art Gallery to view paintings available for purchase, and also a selection from various private collections.