Exhibitions and Events
Hospice Tairawhiti Fundraiser
Hospice Tairawhiti Shaken Not Stirred Casino Night
Lawson Field Theatre, Vogel St, Gisborne.
17 May 2013
Cost: $75 per ticket
High rollers, big spenders, social butterflies and James Bond aspirants are invited to an evening of glitz and glamour, cocktails and canapés at the Hospice Tairawhiti Casino Fundraiser.
This James Bond casino fundraiser is a new twist to previous years wine and art auctions. Instead of a seated dinner, cocktails and canapés, live music and casino entertainment will be held at Lawson Field Theatre on May 17.
Guests are urged to rally a group of friends and come dressed to kill for "Shaken Not Stirred." Ticket entry includes $1m in chips to play on the night.
Hospice Tairawhiti (previously Gisborne Palliative Care) General Manager Barbara Grout said last year's Medieval wine and art auction was a huge success, raising over $19,000.
"We thank the community for the support they have given the Hospice Tairawhiti wine and art auction and look forward to adding this new event to our fundraising repertoire," she said.
Guests will have the opportunity to give generously while having a great night out with the wine and art auction remaining an integral part of the event.
"Hospice Tairawhiti are delighted to confirm Indevin Independent Winemakers and Craigs Investment partners as major sponsors for Shaken Not Stirred. Their ongoing support is a driving force behind the success of our events and testament to their support of our community," said Mrs. Grout.
Hospice Tairawhiti has been caring for the terminally ill and their families since 1980. They rely on grants, donations and funding to continue to provide these services free to the wider Gisborne region.
Opportunities to donate wine and art and Sponsorship are still available for this popular event. Tickets are $75 and can be purchased from ExpressPR, 130 Ormond Road.
For any enquiries, please contact auction co-ordinator Nicola Chrisp on 8677444 or email


---
Peter Brown 1921-2005
[Past Exhibition]
All are welcome to view a retrospective
exhibition of paintings by the late
Peter Brown
at the Pencil Gallery
Top floor of the black building,
Cnr of Gladstone Rd & Grey St
Gisborne, New Zealand
10 May - 28 May 2006
Gallery opening hours:
Wed-Fri 11am-5:30pm
Sat-Sun 11am-3pm


---
Peter Brown
[Past Exhibition]
a life of beautiful art
This exhibition is opening at the
McGregor Wright Gallery
181 Raumati Road, Paraparaumu.
(cnr. Raumati Road and S.H.1)
at 3.30pm Saturday 27 May
2006 (Viewing from 3pm)
The exhibition will continue for two weeks.
Gallery opening hours: 10am - 5pm
Tuesday - Sunday
Peter Brown (1921-2005) was one of New Zealand's finest exponents of the classical painting tradition.
By virtue of his outstanding ability in drawing and perception of form he was a master at capturing the
essential character of his subjects.
His landscape, portrait and still life paintings are fine art of the highest quality and can be found in
collections around the world.
All at McGregor Wrights have been honoured by our association with this fine, dedicated artist and
special man.
Gordon Cooksley


---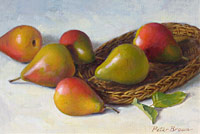 Chelsea Art Exhibition
[Past Exhibition]
The recent Chelsea Art Exhibition has been a great success, raising a substantial sum for the Chelsea Hospital respite care service.


Venue
:
Lawson Field Theatre
Opening night: Friday, June 10 2005, 5.30pm.
Refreshments and Nibbles.
Tickets: $15.00 - Available from Chelsea Hospital or the And gift shop.
Open to the public: Saturday, June 11 - Sunday, June 12, between 10am and 4pm.
Entry: $5.00
Peter Brown and various other Gisborne artists will be exhibiting their works at the biennial Chelsea Art Exhibition where 30% of the proceeds of artworks sold are donated to the Chelsea Hospital respite care service.
Peter's artworks on display:
Mt. Earnslaw
Cho Cho San Camellias
Pears
Makorori Beach
White Roses
Arahura Valley
The Silver Tankard
Wild Yukka and Young Nicks Head
Paintings marked with a

red dot

"

" sold during the exhibition.
View the Gisborne Herald article "Art supports a worthy cause".